Cambridge Fire Fighters Basket Fund
2017 Basket Fund Info
Interested in volunteering to assist
Cambridge Fire Fighters make Christmas bright
for Cambridge Families?
Any conestoga firefighter students or students of other fire programs looking to volunteer can participate in the above dates and also out Zehrs grocery packing Dec 1 & 2 at the South Cambridge Zehrs. Email basketfund@cambridgefirefighters.com with the email subject "Zehrs" to book a time.
Thank you to all the donors and supporters
Click here for a list of those who helped us help others in 2016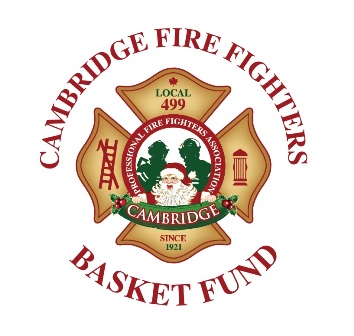 Since 1921 the fire fighters from Cambridge have been able to assist THOUSANDS of families of three or more in need of food, gifts, a traditional Christmas meal, and a healthy helping of CHEER.
Our Cambridge Fire Fighters Basket Fund consists of 130 dedicated and committed fire fighter association members and MANY dedicated volunteers from the community, providing assistance to the citizens of the City of Cambridge.
Click these links for photos from previous years Basket Fund Events:
Without the dedication of our members, their families, and the generous volunteers of our community we would not be able to help so many people in need of assistance at this time of year in our community. Thank you to our members, their families our decicated community volunteers, and the generous people of our community!
This team effort proves everyones contributions are Valued in Our Community!
Email inquiries to basketfund(at)cambridgefirefighters.com
Tax deductible Donations can be made at:
Education Credit Union located at 27 Water St N
or mailed to
Cambridge Fire Fighters Basket Fund
11 Tannery St E
Cambridge, ON
N3C 2C1
Sincerely, the members and executive of the Cambridge Professional Fire Fighters Association
Page Last Updated: Nov 21, 2017 (17:11:44)